AGICO GROUP adheres to quality first and we are able to provide professional one-stop service for your steel silo's design, installation and the late maintenance. Our certified teams are ready to provide you with an attentive service on your preliminary technical consultation and professional final-period design.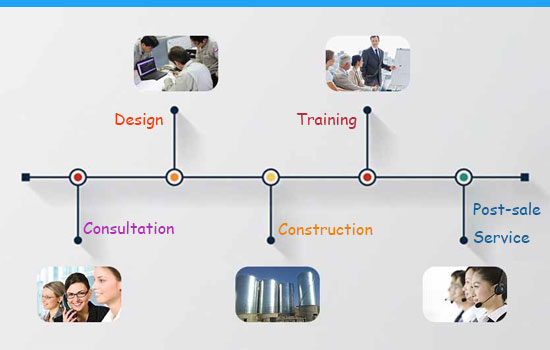 Steel Silo Technical Preparation Before Construction
When the steel silo's project drawing is determined, we will organize workers and technical management personnel to be familiar with the drawing and make a discussion to find any problems and solve these problems before the construction.
Prepare working instruction seriously and submit the examination and approval.
Make sure accurate measurement and the measuring tools are all in ready and in good condition.
For all personnel participating in the construction technology, they must attend a safety and technical training. Anyone who passes the examination can joint in the construction team. What's more, a special type of work must be show certificates.
Carry the relevant machines and tools to the factory, and inspect the construction machine to ensure normal operation.
AGICO Steel Silo After-Sales Service
After the project is finished, our after-sales service center carries out training before the silos are used, we have phone service every three months to remind our customers of the possible problems and collect advices or suggestions in quality and service.
When receiving feedbacks on product quality, our after-sales service center will arrange engineers to arrive at the spot at the top speed to provide technical solutions and help to solve the problem thoroughly.
We provide a 1-year free maintenance after the project is finished and the silo is put into service. If expired for the warranty period, we provide thoughtful service and collect only the cost of materials.