Lime Powder Steel Silo Profile
Lime steel silo is one of the most commonly used methods for the storage of lime. Lime silo consists of powder storehouse body, a discharging pipe and a silo top platforms, escalators, dust removal system, pressure and vacuum release valve, material position indicator, flow system, weighing feeder. AGICO uses the advanced unique German silo construction technology. When constructing, first feed the 495 mm wide coil sheet by a decoiling machine into a bending machine. By bending, stitching, and then through the forming machine rolled into the desired shape, and around the silo lateral forming a 30-40 mm wide, encircling spiral protruding strip on the structure playing the role of strengthening silo. For these two different types of materials, our lime steel silo construction equipment also can realize double bending processing. Spiral steel silos are on site operation and the silo top is ground installation. AGICO lime powder steel silo is also spiral designed without any spike or screw, the steel plate margin is totally seamed by seaming machine. It brings much convenience to the construction process and saves labors.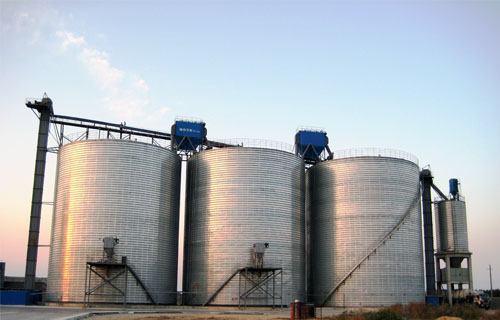 There is no need of scaffolding and other auxiliary facilities. Silo construction equipment can work at the speed of 3-5 m/min of forming and bending, so the construction period could be much shorted. We only need a truck to deliver the silo construction equipment on site, so the transport cost is quite low. Spiral silos are made of thin galvanized steel coil sheet and with only the equivalent of the capacity of cement bin rebar weight, so the construction cost is much lower.
Advantages of AGICO Lime Powder Steel Silo
Low comprehensive cost: Compared with the concrete structure of the silo, the steel structure silo is relatively light, which can reduce the foundation cost of about 30% ~ 50%. We guarantee low cost and high quality.
High strength: Good seismic performance, reduce the effect of earthquake.
Convenient and fast in building: Steel silo can be the implementation of factory production, on-site installation, which can shorten the construction period, less amount of construction, in addition, less environmental pollution.
High automatic level: Steel silo for mechanization and automation operation, which can save a lot of manpowder and material resources. In addition,the maintenance of lime steel silo is also very convenient.
Waterproofness and anti-corrosion: AGICO lime steel silo with galvanized steel sheet can not only be waterproof, but also can prevent corrosion. And the operation process is very simple; the lime will not be exposed to the air for a long time, so it will not absorb moisture and carbon dioxide in the air.
Good leakproofness and damp proof: Using the advanced technique of suture, AGICO steel lime silos all have good sealing performance.
Maintenance convenience: AGICO lime steel silo has a standardized and series of structures, and there are general galvanized steel and accessories, these make maintenance more convenient, the storage capacity of the lime silo is larger, and it is more convenient to install and move.
Safety Tips About Lime Powder Storage:
Lime is a kind of inorganic cementing material, and its main component is calcium oxide.
Limestone is composed of limestone, dolomite, chalk, shell and other raw materials, these materials after 1100 to 900 degrees Celsius before the formation of lime. Lime powder is one of the earliest used cementations materials, and it is widely used in civil engineering. The most commonly used material in the construction industry is industrial calcium carbonate. In addition, lime can be used as a food additive; usually we call it food grade calcium carbonate, which is widely used in daily life.
When you store the lime powder in AGICO steel silo, it is not only waterproof, but also can prevent corrosion. When you store lime, you must pay attention to the protection of respiratory organs, and you must wear dust overalls and gloves, and you have to wear airtight dust glasses to prevent dust into the eyes and cause damage. The reason for doing these safety precautions is the lime powder will stimulate the human body skin. When you're touch with lime powder, it can cause sneezing and coughing. Lime can make fat emulsion, soluble protein, corrosive skin.
Lime powder has very strong moisture absorption, so must be stored in a dry environment and take strict waterproof measures, when you transport lime, you must pay attention to prevent rain soaked lime .When using the lime silo, we should strictly control the moisture content of the lime. Moisture cannot be higher than 13%, if over 13.5%, it should be ventilated to cool and dehumidify. In addition, in the process of storing and transporting lime, fire prevention and explosion protection are very important. Because lime will releases a lot of heat when it is mixed with water. Lime mustn't storage with high acid content materials together. Shorter construction and operation time is a better choice. Moreover, the lime silo is usually outside, so the lime silo is usually designed to be anti-freeze.
AGICO Lime Powder Storage Silo
AGICO steel silo has excellent German steel silo equipment and professional technology, we specialize in the research, development, design and sales and service of all kinds of material storage technologies. Through Introducing, absorbing and digesting foreign advanced technology and production practices, we have formed a complete set of operating procedures, including design, production, construction, installation, commissioning and maintenance, and accumulated rich experience in practice. AGICO steel silo have a first-class supporting system and a complete set of automatic operating system, all of these can make the material's storage, turnover, utilization and management more scientific and reasonable. AGICO steel silo has already been a leading enterprise in this industry. We are professional steel silo manufacturer. Our products widely used in Cement building materials and Grain storage, sewage treatment and so on. AGICO firmly believes that "elite casting boutique", our engineers have 20 years experience. AGICO provides a 1-year free maintenance after the project is delivered and for over one-year maintenance period, we have thoughtful service as usual and collect only the corresponding cost of materials. We guarantee a timely reaction for arriving at the scene in 36 hours after receiving feedback. If you have any problems in lime silo cleaning, we can have a free guidance.
AGICO Steel Silo
AGICO Steel Silo is a new patent technology which makes a breakthrough of the traditional concept, it adapts to various geological and meteorological conditions, Steel silo has the following characteristics: light weight, low cost (total investment cost is 30% - 50% lower than the same capacity of reinforced concrete silo), large reserves, short construct periods, steel silo covers very small area, easy transportation, and low dust emissions; and the steel silo has good sealing, strong durability, wide application scope, convenient management and so on. The supporting system of the steel plate silo is excellent and high automation, which will meet the safe operation performance well. These reasonable process designs and excellent supporting system, as well as the safe storage management measures, have ensured the storage safety of the steel silo.
Wide Use of Steel Silo
Steel silo can store the granular, powder and liquid materials. It is widely suitable for agriculture, grain and oil, metallurgy, building materials, petroleum, chemical industry, light industry, brewing, pharmaceutical, food, and coal, environmental protection, sewage treatment and other industries. Moreover the steel silo also can be used as garage, residential. AGICO steel silo can store granular materials such as: wheat, rice, corn, barley, sorghum, edible oil seeds, soybeans, cocoa beans, gravel, ore, etc; powder materials such as flour, starch, coffee powder, feed products, cement, gypsum, bauxite and limestone powder; liquid materials such as: oil, beer, liquor, water, sewage, etc. AGICO steel silo is widely used in various fields. According to the customers' requirements and the characteristics of storage materials, we have different kinds of steel silo for sale. And customers can choose the required silo materials. Here we mainly introduce AGICO lime powder steel silo.