Cement storage silos are on-site storage containers that used for the storage and distribution of various types of cement mixtures. Spiral steel silos for cement storage come in a variety of sizes, which makes them ideal for both large-scale and small-scale cement plants. According to different actual needs, cement storage silo can be designed to be a permanent structure, or a portable model. Like many other types of steel silos, the cement storage silos are usually equipped with blowers to expel the cement into a truck or other containers.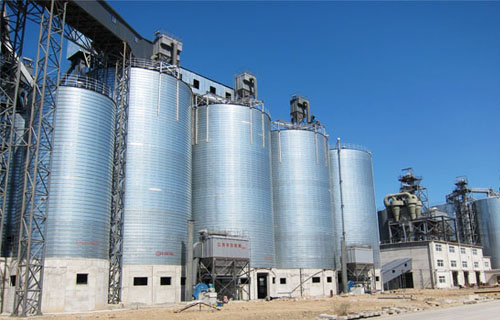 It is important to note that the materials and the design of a cement silo will vary, depending on the type of cement product that is to be stored in the facility. Not all types of building materials are conducive to keeping all of the various components that go into cement blends from caking or absorbing moisture. For example, a silo that is structured to protect the integrity of soda ash may not work as well with lime. Along with the ingredients of the concrete, the configuration of the cement silo will be slightly different for products that are identified as high performance concrete or self-compacting concrete.
Cement Storage Silo's Specification Table
| Capacity (tons / m³) | Size | Diameter(m) | Height(m) | Silo Weight(tons) |
| --- | --- | --- | --- | --- |
| 500tons/385m ³ | Φ7m×H10m | 7m | 10m | 10tons |
| 1000tons/754 m ³ | Φ8m×H15m | 8m | 15m | 15 tons |
| 1500tons/1099 m³ | Φ10m×H14m | 10m | 14m | 20 tons |
| 2000tons/1696 m³ | Φ12m×H15m | 12m | 15m | 30 tons |
| 3000tons/2260m³ | Φ12m×H20m | 12m | 20m | 42 tons |
| 5000tons/3886 m³ | Φ15m×H22m | 15m | 22m | 66 tons |
| 6000tons/4416m³ | Φ15m×H25m | 15m | 25m | 79 tons |
| 10000tons/7850 m³ | Φ20m×H25m | 20m | 25m | 118 tons |
Permanent Cement Storage Silo and Portable Cement Silo
The height and volume of cement storage silo vary according to different storage requirements. In real world application, the cement storage silo can be structured to hold no more than a few tons of dry cement production, or be designed to efficiently hold several hundred tons. Generally speaking, cement storage silos with big size are cannot be moved because of permanent structures. Cement silos with permanent structure are likely to be found at concrete plants, where the finished product is stored until it is time for shipment. Many building sites that utilize concrete in the construction process opt for portable cement silos that can be moved around the site as the need arises.
It is very common for construction companies to keep several portable cement silos available for different building projects. These simple storage devices can usually be set up in a matter of hours, then dismantled once the project is complete. The storage principle of the portable cement silo is quite easy, since the components can be stored in a warehouse until the device is needed at another building site.
As a necessary equipment of cement storage silos, blowers are necessary for both the permanent and the portable cement silo. The blower makes it easier to expel the product from the silo. Blowers are often driven by electricity, although there are models that rely on propane or even gasoline. Blower equipment with the portable silos takes very little time to set up, and can also be stored easily when not in use.
Layout Design of Cement Storage Silos
The plane and vertical layout should according to construction technology, terrain condition, engineering geology, execution conditions and so on. After accounting price and considering technological level, the best plan for cement silos would be determined.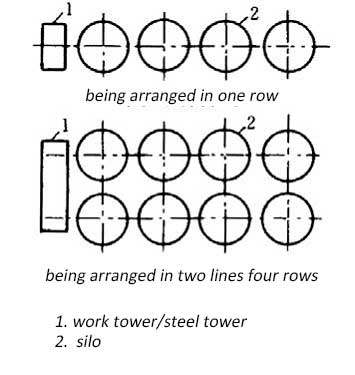 In a cement silo group, single and multiple rows are the most common plane layout. The distance of two silos needs to be more than 400mm. When applying independent foundation, foundation designs are available. For floor flat cement silo, the distance of cleaning equipments should be considered.
Structure Selection of Cement Storage Silos
The basic structure of cement storage silo includes building above top of silo, silo top, silo wall, silo bottom, supporting structure of silo bottom and foundation.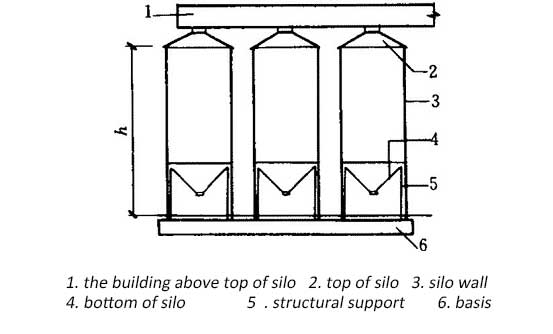 The conveying equipments and maintenance platform of building above top of silo should apply open steel channel structure. For special technical requirements, enclosed corridor is also available.
The roof of steel silo should be designed conical shell with top and under tube, or truncated cone space truss structure.
The steel cement storage silos are thread designed and applied galvanized steel sheet, it's the most popular technical process for steel silos in today's silo construction.
The bottom of steel cement silo can apply concrete structure or steel structure to support the silo body.
For cement silo with a diameter below 10 meters, it's better to apply column supporting structure, wall supporting structure or cone bottom structure. For cement silo with a diameter more than 12m, flat bottom silo is the optimum structure, and tunnel discharge channels are applied for the type of cement silo structure.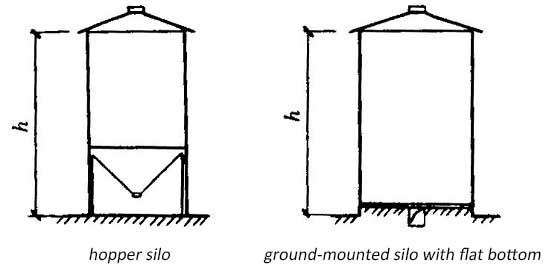 Structure Design of Cement Storage Silos
The design of spiral steel silo should according to the ultimate limit states and serviceability limit state.
Cement storage silo designed with ultimate limit state should apply design value of a load and design value of material strength, calculated content to include:
Connection strength and stability calculation of all equipments.
Calculation on resisting overturning.
Anchorage calculation of silo base.
Steel silo structure, according to normal use limit state design, should adopt the standard values of load, according to the requirement to control the deformation of structure component of deformation calculation.
Technical Design of Cement Storage Silos
Technical design should be based on steel silo storage, using function, operation requirements, transmission way of cement and other conditions, just after technical economy comparison.
Technical design content should include: process flow, equipment selection, dust removal system and material level control, etc.
When the number of steel silos is more complex, a control tower should be set. Steel silos quantity and simple operation, less work doesn't set the tower, the cement pipe transport directly.
The layout of process equipments should meet the space requirements of hoisting, operation and maintenance.
Cement steel silo with diameter below 10m should apply gravity feed mechanic, and the bottom slope should more than 45°.
Flat bottom steel silo should apply screw conveyor for cement transmission or other facilities.
The technical design should in view of operation orders.
Dust Pelletizing System of Cement Silo
The dust pelletizing system of a cement silo includes the selection and layout of dust removal equipment.
Dust removal design should be chosen according to the following parameters: filter should not be less than 24 squares when the silo capacity is under 500 t, above 500 t should choose according to the specific tonnage multiplied by the coefficient of 0.05.
Dust collecting equipment should be open layout. It can be set at the top of the silo, while it is pretty to be installed at the bottom of the silo for centralized deducting.
The butterfly valve should be set on the bottom of centralized dedusting equipment.
The design of dust removal system should according to the opening order and operating requirements.